Health and Safety
Illness
Our Creative Kids childcare facility in Hattiesburg, MS follows the Mississippi State Department of Health guidelines for caring for children that are ill. Parents are asked to pay attention to their children's health prior to coming to daycare. We understand how difficult making last minute childcare arrangements can be. However, our goal is to keep all of our children safe and as well as possible.
If your child runs a fever of 100 auxiliary or 101 orally, we require that you wait at least 24 hours of no fever before you bring the child back to daycare. Likewise, if a child is sent home with a fever he/she cannot return to the childcare facility the following day. Also, if a child is too sick to go outside, he/she is too sick to be at preschool.
Medication
Creative Kids preschool will administer medication as needed. The following health and safety guidelines will be followed:
Parents have the option of signing permission for the administration of Tylenol and Motrin. This may be given based on the label direction. Parents will be called before the medicine is given.
Over the counter medications may be given based on the label directions.
Prescription medications may be given based on label directions. The medication may be given only to the child for whom it is prescribed, and it must be in the original bottle.
A Medication Administration Log is kept daily at the front desk. Parents must complete and sign the log daily, before any medication can be administered.
Medications will be given on the following times only: 8:00 AM, 11:00 AM & 3:00 PM.
Sun safe practices will be used during outdoor activities scheduled between 10 AM – 2 PM during the period April 1st to September 15th.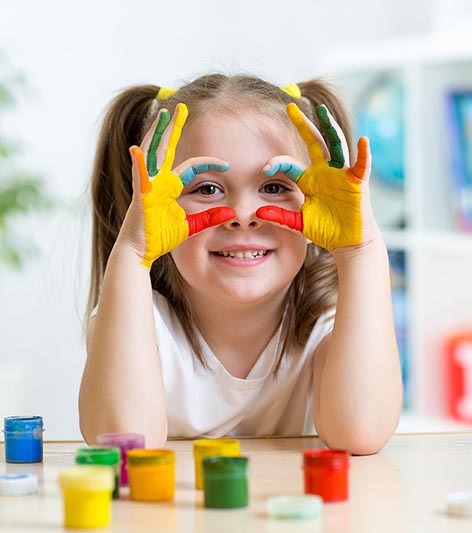 Arrival and Departure
Parents, or their delegates, must check children in and out of Creative Kids Christian Learning Center by using our Procare Check In/Out system which uses a fingerprint verification system. The system then prints out a ticket which each person must have to drop off or pick up a child. Parents are responsible for child care until their children are turned over to the teacher. Likewise, parents assume responsibility for their children upon removal from daycare classrooms.
Children are not allowed to enter or leave the preschool buildings without a responsible adult due to Mississippi Department of Health rules and safety issues. Children are only allowed to leave from the front door of the daycare. The daycare playground gates are locked and will not be opened for preschool departures.
Only those listed on the application will be allowed to remove a child from Creative Kids daycare without prior notification of the parents or guardians. Even those listed should expect to provide a photo ID if requested. Parents/guardians are responsible to notify Creative Kids preschool of any potential custody issues that may affect the child's safety. If possible a photo of the person not allowed to remove the child would be an added measure of security.
In the event that a child is not picked up (without notification) by 6:15 PM, the other people on the emergency list will be called in proper order. The child will be cared for until arrangements are made but there will be an additional childcare fee.
*Nap times are posted in each room. We ask that you refrain from bringing children during that time except for special circumstances. This practice is very disruptive when trying to get the children to sleep.
Emergency Procedures
In the event of a disaster or emergency that requires evacuation, Creative Kids Christian Learning Center will transport all children to designated locations using school buses and vans. For our full emergency procedures please see our General Daycare Information.
General Information
Childcare Cameras
Creative Kids Preschool utilizes a video streaming service provided by KidsVision. We have daycare cameras in every classroom and on the playgrounds. These childcare web streaming cameras are available to the parents for viewing their children at any time. Each classroom has a unique password to prevent unauthorized view of the children. As a parent, you can only view the rooms that your child will be in. The other childcare classrooms are blocked. Also, to help prevent unauthorized viewing, we ask that you limit the people you give your password to.
KidsVIsion Camera Information